Liquid Penetrant Equipment
Porosity Solutions offers a selection of ASTM 1417 compliant liquid penetrant equipment designed for both durability and ease of use. Our stock fluorescent penetrant inspection lines are heavy duty and loaded with features making them perfect for the foundry or shop floor. Our FPI equipment is both durable and versatile with the ability to run either sample jobs or full production volumes on most small to medium size parts. If your penetrant equipment requirements don't fit our stock FPI line, Porosity Solutions can design and manufacture a system specifically for your parts. Whether a stand-alone stock penetrant inspection system or a custom (manual or automated) penetrant system, Porosity Solutions is your solution for in-house penetrant inspection.
Supplied stock with large 32″x16″ stainless steel tanks, coated heavy steel frame, coated steel enclosure, dwell timer, automatic rinse tank agitation, agitation timer, dryer temperature controller, dryer time control, electric valve controlled drains, and digital water temperature display, our ASTM 1417 compliant FPI3200 liquid penetrant line is the perfect FPI system for your lab or shop floor. Loaded with standard features that are only available as options on most penetrant systems, this liquid penetrant line is at the top of its class. Whether you perform penetrant testing in a lab environment or your FPI testing is performed on the shop floor, the durable versatile FPI3200 is the way to go.
Price $11,900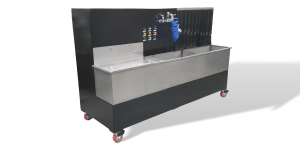 Details
---
The large QA42 UV penetrant inspection booth comes with a 110V outlet, white light switch, UV light switch, three large 42″x 24″ shelves with topped with rubber matting, easy-glide black out curtain, a high intensity LED UV lamp, and an adjustable lamp position arm with a quick release fixture. The adjustable UV lamp arm and quick release fixture enables the LED UV lamp to be used in the fixed or hand-held position. The heavy duty urethane lockable castors makes it easy to move the UV inspection booth into it's permanent position or to move it from location to location. The QA42UV is durable, versatile, and looks at home on either the lab or shop floor. Just plug this penetrant inspection booth into a standard 110V outlet and you're ready to go!
Price $5,700 including the High Intensity LED UV Lamp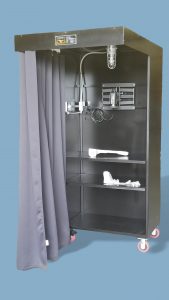 QA42 Inspection Booth
Details
---
Our model UV100H High Intensity UV LED inspection lamp is miles above the traditional mercury UV lamps. No more waiting 10 minutes for the lamp to power up to full strength. Just turn it on for instant UV light! It doesn't get hot and its even dustproof, waterproof, and impact resistant. ASTM compliant and priced hundreds of dollars below the traditional mercury lamps, our high intensity LED UV lamp outshines the competition!
Price – $990.00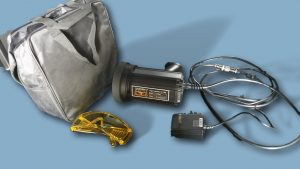 Details
---
If you require a FPI line other than our stock system, we can design a custom penetrant inspection system specifically for you. Porosity Solutions is a Division of Townsend Engineering Company who, over the past 20 years, has designed and manufactured custom equipment and automation for the automotive, aerospace, foundry, and climate control industries. Whether you require a manual or automated penetrant system, the Porosity Solutions engineering team can design and manufacture a system that fits your process. Contact us to discuss.
Read More
Check out our other Services and Testing equipment
[Rich_Web_Slider id="7″]