High Intensity UV Inspection Light
Our model UV100H High Intensity UV LED inspection lamp is miles above the traditional mercury UV lamps. No more waiting 10 minutes for the UV inspection light to power up to full strength. Just turn it on for instant UV light! The UV100H is certified at 365nm UV-A wavelength for maximum UV lighting while maintaining minimum visible white light. The UV-A intensity is certified to be greater than 7,000 at a distance of 15″ from the workpiece which makes it perfect for mounting in our QA42 inspection booth or in an existing inspection booth. (A mounting hole is built into the bottom of the handle) This LED UV inspection lamp has a white light built in to quickly switch between UV and white light. It doesn't get hot and its even dustproof, waterproof, and impact resistant. ASTM compliant and priced hundreds of dollars below the traditional mercury lamps, our high intensity LED UV light outshines the competition! Our UV100H penetrant inspection light is in stock. Order now.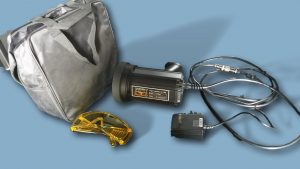 Certified 365nm UV-A wave length for maximum UV lighting while maintaining minimum visible light.
Greater than 7,000 UV-A intensity at 15″ distance from workpiece
Wide uniform beam
Instant on /off
Waterproof, dustproof, and impact resistant
Integrated white light for instant switching between UV and white light
ASTM Compliant
Certification Report included to ensure ASTM compliance (UV-A intensity, Maximum visible white light, and UV-A Spectrum included on certification)
Comes with instructions, carry bag, AC power adapter, cords, and safety glasses
110V input to power adapter
Low heat output (The UV LED lamp does not create high temperatures like the traditional mercury UV lamps)
12 month warranty from date of purchase
Cost $990 (The UV100H lamp is included with our QA42 UV inspection booth)
Contact Us
---
Return to Penetrant Inspection Equipment page
Related Liquid Penetrant solutions and equipment.
---
Check out our other Services and Testing equipment
[Rich_Web_Slider id="1″]