Porosity Analysis Systems that Eliminate Gas Porosity and Meet Quality Standards
Our hydrogen porosity analysis systems use Reduced Pressure Test (RPT) samples to control hydrogen porosity (gas porosity) in the aluminum melt prior to casting. Many foundries already have RPT vacuum machines but don't use them effectively. Our Porosity Analysis systems remove the operator influence and guesswork from producing and evaluating RPT samples, providing assurance that your castings will be free of hydrogen porosity (gas porosity).
The typical way to evaluate RPT samples is to saw them, sand the surface and then compare to a chart. There are many issues with this method. Using specific gravity (density) to evaluate the samples, rather than saw and sand, has many advantages. The specific gravity (density) method is much more accurate, is much safer, and takes only a fraction of the time (about 30 seconds). Yes, you save time and money using a process that is much more accurate! This case study shows the results of Porosity Solutions implementing the process in both an automotive and industrial products Aluminum Foundry.
Porosity Solutions offers two different porosity analysis systems which will improve the Hydrogen porosity (gas porosity) control of your castings. The PAS3000 is used with your existing RPT vacuum machine while the all-inclusive PAS5000 comes with an integrated vacuum chamber for automatic control of both the production and analysis of reduced pressure test samples. Our Porosity Analysis systems are accurate and repeatable, helping you meet the quality requirements of both the foundry and the end customer.
---
The PAS3000 provides quick and accurate Specific Gravity analysis of RPT samples. Made for the Foundry floor with full enclosure to reduce dust, automatic calculation of the results, a touch screen interface to guide the operator, and an Ethernet port to transfer the data to a computer, the PAS3000 is foundry tough yet laboroatory accurate.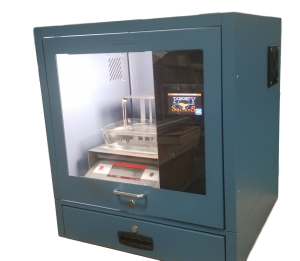 ---
The PAS5000 is the new standard in aluminum Reduced Pressure Testing (RPT) and melt quality control. With automated vacuum control and density analysis, the PAS5000 removes the operator influence typically associated with reduced pressure testing . Accurate and repeatable, with an integrated data collection system, the PAS5000 meets the quality system requirements of both the foundry and end customer.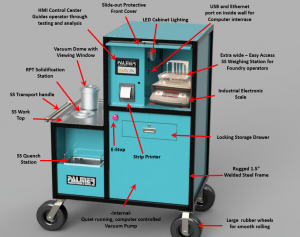 Details
---
Related links:
Porosity Solutions Services
[Rich_Web_Slider id="7″]