PAS5000 Porosity Analysis System for Quick Accurate Production and Measurement of Reduced Pressure Test Samples
The PAS5000 is the new standard in aluminum Reduced Pressure Testing (RPT) and melt quality control. This rugged foundry floor system performs both the production and analysis of reduced pressure test samples. The fully integrated large HMI control panel walks the operator through each step of the test. Test results are automatically calculated, reported, and stored for Specific Gravity, Percent Porosity, or Density Index. Accurate results are provided in approximately 7 minutes while completely eliminating the operator influence commonly experienced with the old visual analysis method. In addition to eliminating the need to saw, grind, and polish the RPT samples, no consumables are used in the process. The PAS5000 is quality system friendly while being safer, faster, and more accurate than the chart comparison method.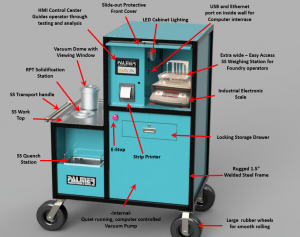 ---
PAS5000 Melt Quality Control System – Features
Perform both production and analysis of RPT samples with this foundry floor system
Interactive HMI controls walk the operator through each test
Aluminum vacuum dome with high temperature glass viewing window
Calculates and reports Specific Gravity, Percent Porosity, or Density Index
Automatic control of vacuum pressure
Automatic control of time cycle with auto vacuum release at end of cycle
Automatic collection of test data for each test
USB and Ethernet port for data extraction
Strip printer to print and send test data with part traveler
Integrated SS quench station to cool RPT sample prior to weighing
Large "easy access" weighing station
Precision industrial scale with PLC and HMI interface.
Single 110V input power port
Built for Foundry floor operation
Hinged front door slides out on bearing track to cover and protect electronics from dust.
Integrated and enclosed quiet operating industrial vacuum pump
Rugged 1 ½" steel square tubing frame
Heavy duty stainless steel work top
Large rubber wheels to buffer vibration from foundry floor
Large locking front drawer on bearing slides
Supplied with 2 sample cups, calibration standard, operating instructions, calibration instructions, and parts list.
Consulting RequestRequest Quote
---